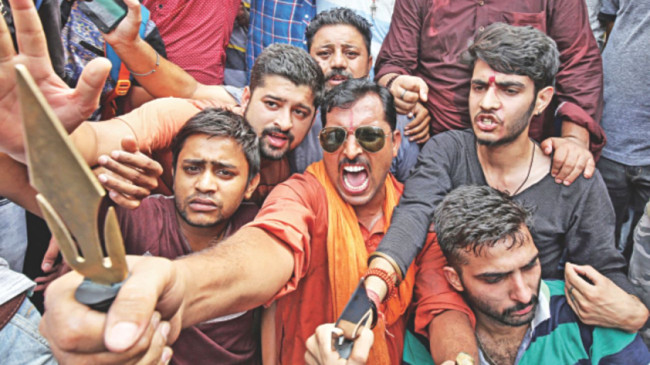 At least seven Amarnath pilgrims were killed and 12 others, including policemen, injured on Monday, when a bus from Gujarat was caught in a cross fire between militants and a police party in Bontengoo, near Anantnag district in Jammu and Kashmir, the police said.
Jammu and Kashmir minister for public works Naeem Akhtar, condemning the attack said this is a dark patch on the history of Kashmir.
About 100,000 pilgrims have already completed the journey to the Amarnath shrine that began late last month and is due to end in late August under tight security.
A police officer told PTI that the militants attacked an armoured auto of the police.
The attack occurred at Batengoo at about 8.20pm when 60-70 pilgrims were returning from Baltal, one of the base camps of the pilgrimage, to Jammu. He also condemned PM Modi for grave and unacceptable security lapse.
Security personnel stand guard after the terror attack on pilgrims on Monday.
Ministry of Home Affairs called an emergency meeting and the security was beefed up in the Jammu and Kashmir.
NDTVsaid that the bus was reportedly not a part of the main yatra convoy and was not registered with the shrine board. He blamed the attack on Muslim militants who are fighting against Indian rule in Kashmir.
Laptop ban: Emirates to enhance security
Emirates' Dubai hub has grown into the world's busiest airport for worldwide traffic, in large part thanks to Emirates' expansion. The US implemented the electronic device ban on inbound flights from 10 Middle Eastern airports back in March.
The police had asked all vehicles carrying pilgrims to cross the Jawahar Tunnel in daylight and avoid travelling in the Valley after sundown.
# HM Rajnath Singh has spoken with J&K CM & Guv, assured fullest assistance to help the injured.He also spoke with DG Police.
Calling the attack as most reprehensible, Defence Minister Arun Jaitley said the incident should add to "our determination to eliminate terrorism".
The CRPF director general RR Bhatnagar told media that the bus had been behind a J&K police jeep, that the terrorists fired at the jeep first, but that he could not be certain of who the target might have been.
"Pained beyond words on the dastardly attack on peaceful Amarnath Yatris in J&K".
The one thing we had all feared this year during the yatra.
A former chief minister of the state, Ghulam Nabi Azad, added: "I don't think anybody in Kashmir would support this attack".
The militants also carried out two attacks on security forces in the area.